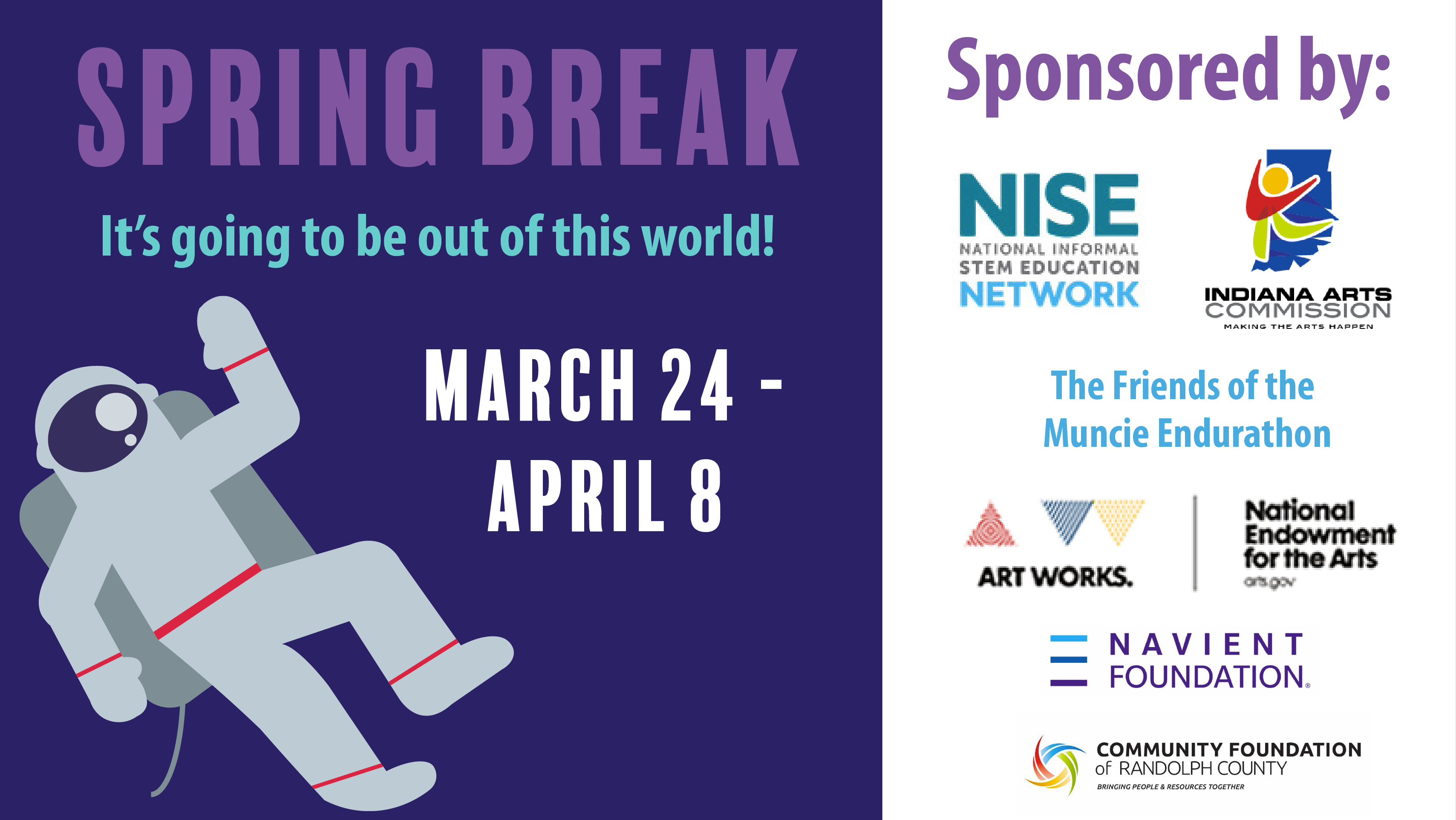 Join us at the Muncie Children's Museum for a space-themed spring break! We will be hosting space-themed crafts and activities each day at 11 a.m., 1 p.m. and 3 p.m. (excluding Sundays, where activities will be held only at 1 and 3).
Additionally, on March 24, artist Jude Odell will be visiting the museum to create outer space-themed ceramic tiles with visitors. The tiles will be fired and then, on March 31, return to glaze your tile! The finished tiles will be installed in our Creativity Center on a later date. This is a first-come, first-serve activity; registration will be held at the door on March 24.
Tile Creation Sessions on March 24:
1:00 to 2:00
2:15 to 3:15
3:30 to 4:30
Tile Glazing Sessions on March 31:
1:00 to 1:45
2:00 to 2:45
3:00 to 3:45
Thank you to our amazing sponsors for this year's spring break!
– The Indiana Arts Commission
– The Community Foundation of Randolph County
– The National Informal STEM Education Network
– The National Endowment for the Arts
– The Friends of the Muncie Endurathon

The Muncie Children's Museum is excited to invite you and your family to our annual Children's Health Fair. The event will be held on Saturday, April 21st from 10 a.m. to 2 p.m. at the Muncie Children's Museum.
Is your child good to go, from head to toe? The main goal of the Children's Health Fair is to make parents and children aware of all of the different factors that go into truly being healthy. Agencies at the event will focus on six components of kids' health: checkups, play, safety, learning, friends and helping hands.
The Children's Health Fair will be held on Free Saturday, meaning there will be no admission charge; this way, everyone can come out and have a good time.