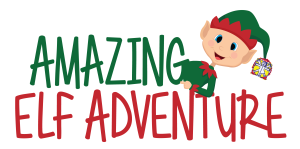 The Amazing Elf Adventure is a fun house adventure that invites families to begin elf training.  Training includes a scavenger hunt through various themed rooms including the Polar Express, Candy Cane Lane, and the Twelve Days of Christmas. Adventuring through a rotating wrapping tunnel, learning about holiday traditions in Santa's workshop, getting creative in Mrs. Claus's classroom, and testing physical abilities in the elf obstacle course are all part of the preparation to become a certified elf.

Who Are We Seeking – Fun and Imaginative People
Must be at least sixteen years old. Visitor guides become holiday characters to help with the many activities of elf training.  Guides need to enjoy interacting with children and their families, have a sense of holiday fun, and understand the importance of providing practical help as needed in answering questions. Staff will learn improvisational skills.
Dates of Amazing Elf Adventure
The Amazing Elf Adventure will open on Friday, November 24th and runs through Saturday, December 23rd. The Adventure will operate Thursdays through Sundays as well as a clean-up day on Thursday, December 28th.  The event will operate from 9am-2pm as needed on Thursdays for school groups. On Fridays and Saturdays, it will operate from 10am-5pm and Sundays from 1pm-5pm. There will be two rehearsals occurring on Saturday November 4th and November 11th from 9am-2pm.
Pay
$7.25 per hour
Interview Location & Time
Muncie Children's Museum, 515 S. High Street, Muncie Indiana 47305
Friday, September 22 from 6pm-8pm
Saturday, September 23 from 10am-Noon
Friday, October 20 from 6pm-8pm
Saturday, October 21 from 10am-Noon
If interested in applying please send resume and references to Marcy Paul, Director of Exhibits and Education, at 515 S. High Street, Muncie IN 47305 or mpaul@munciemuseum.com.
If you have questions, call Marcy at 765-286-1660 ext 211.